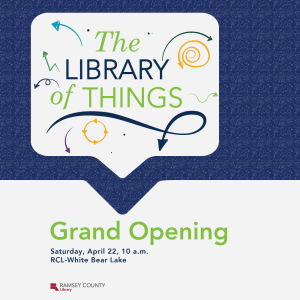 Libraries worldwide are adding what we call a Library of Things to our typical collections of books, magazines, audio and visual materials. Over the years, Ramsey County Library has added unusual items as well: from framed prints and sculptures in the 1970s, to energy meters, bike locks and snowshoes more recently. The collections are intended to give you a chance to try something new without investing in it first and to save you money and storage space for items you may not use very often. The goal is also to save natural resources by not buying more things than we need and borrowing them instead.
Based on a survey conducted by Ramsey County Library, we have been collecting items that can be easily stored and transported between branches for requests. We are emphasizing kitchen items, tools, games and crafts. We will have individual items like paper shredders and bundt pans and kits on themes, like knitting, crocheting or Do-It-Yourself home projects. We also will have outdoor games as well as board games.
Our collections will start at the Maplewood, Mounds View and White Bear Lake locations. Maplewood's items will be temporarily located at the White Bear Lake branch during the library renovation.
On April 22, join us at the library in White Bear Lake at 10 a.m. to kick off Ramsey County Library of Things. Come and see what we currently have for you to borrow.