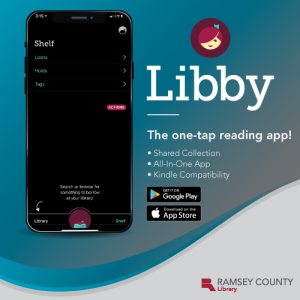 Changes are coming soon to Ramsey County Library's (RCL) downloadable collection. On February, 23, RCL will transition over to Libby by OverDrive (OverDrive for Kindle users) as your one-stop shop for e-books, e-audiobooks and e-magazines.
With the acquisition of RBdigital by OverDrive, the Library took this opportunity to reconsider which online/mobile platform would give our patrons access to the most shared content and provide the best user experience. OverDrive was the best option due to the following key benefits:
Shared collection: Discover, request and borrow e-books and e-audiobooks from other Twin Cities metro libraries accessible to all in a shared collection. You'll have access to more content than ever before.
All-in-one App: Instead of needing to check multiple apps, find all the e-books and e-audiobooks RCL owns in one app.
Kindle compatibility: Many Kindle users have been frustrated by their inability to borrow e-books from RCL in the past. With OverDrive, Kindle users can join everyone else in borrowing e-books from RCL.
During the transition, cloudLibrary services will start to diminish and eventually end. Access to currently checked out items and the option to check out new e-books will discontinue. Current holds will not be saved or transferred. To see your checked out items or holds list, log into your library account.
Now is a good time to go download the Libby app (OverDrive app for Kindle users), available on iOS and Android. Simply search for and select "Ramsey County Library." Please note, Ramsey County Library is a member of the Metropolitan Library Service Agency (MELSA). You will find Ramsey County Library listed under MELSA: Twin Cities Metro eLibrary when using Libby. Then, log in using your Ramsey County Library card number and user PIN.
Step-by-step instructions on getting started with Libby/OverDrive, opens a new window and online tutorials are available. You can also call 651-724-6100 to talk to a librarian. For more information.