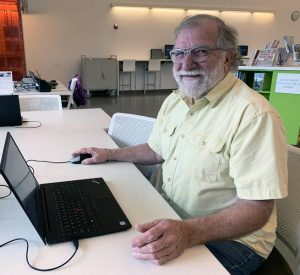 Meet Jeff Murphey, an Emmy Award winning designer whose artistic creations are seen from the Cannes Film Festival to Tokyo to Hollywood. Among his notable designs are the Paul Bunyan in the movie Fargo, the Rainforest Cafe sign at the Mall of America, and the Emmy Award  wining set design  for Kev Koom Siab, a Hmong produced talk show at Twin Cities Public Television and Saint Paul Neighborhood Network from 1992 to 2003.
Murphey has been dropping in during Open Maker to make 3D miniature version of his large-scale sculptures. "A designer friend of mine, Andrew, introduced me to the Open Maker at Roseville," says Murphey. "I was creating miniatures of my large-scale sculptures by hand, and I needed a way to show potential clients the look, feel and scale of the projects. 3D printing the miniatures was a good solution."
During Open Maker, Murphey also helps other participants of all ages learn how to model and design in Tinkercad.com, a web-based 3D modeling tool. Even though there are templates, Murphey likes to challenge other participants to create their own designs and problem solve their creative issues.
Maker is a series of events and workshops where participants can learn to use the 3D printer, sewing machine, Silhouette Cameo cutting machine, digitalization equipment and more. Explore Maker Adult events on page 11, or sign up for the Library's Technology e-newsletter, opens a new window.