Be a weekly winner! Each Tuesday, we will post a different contest for teens to enter and get a chance to win prizes! 
This week's contest (week of 4/20) is Book Spine Poetry

Continuing with our National Poetry Month theme, this week's contest is the Book Spine Poetry Contest! 
What is book spine poetry? It's a free verse poem composed by using the titles written on the spines a book. To make it, you will need a few books you have at home or from your library. Take those books (at least 3 of them), stack them up in a way that makes a poem or a story out of the titles, snap a photo, and send it to us!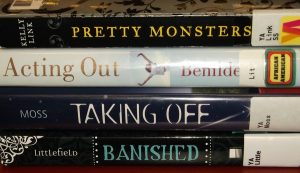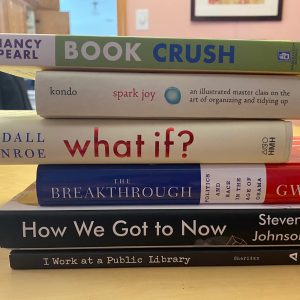 Check out the photos above to see some examples and get some inspiration!
To enter, please send an email to rclteenservices@co.ramsey.mn.us with following information:
Include your full name, grade, and school in the body of the email.

Photo file (.jpg or .png) of your photo.
 Weekly Contest Guidelines
Participants may only submit one entry per weekly contest.
Contests are open to teens in grades 6-12 who reside in the Twin Cities area.
Ramsey County Library (RCL) reserves the right to determine what entries are appropriate for each contest.
For photo contests, submitted photos must be the original work of the participant. No logos/watermarks.
By entering any of our contests, you grant RCL permission to exhibit your photo(s) in the Library, display it on the Library website, and use it on publicity releases.
First names of winners may be published on the library website and/or social media.
Winners will be contacted by email.
Unless stated otherwise, prizes are $10 gift cards. Gift cards will be mailed to winners via USPS.
Questions? Email us at rclteenservices@co.ramsey.mn.us.